Why Bamboo?

Bamboo is naturally hypoallergenic and ideal for those with sensitive skin.Bamboo fibre is naturally smooth and round without chemical treatment, meaning there are no sharp spurs or harsh chemicals which may irritate the skin.

Bamboo has excellent natural antibacterial and deodorising properties, therefore if they are left damp they will not start to smell, unlike cotton towels.

Bamboo is an enviromentally friendly resource. It grows incredibly rapidly and unlike cotton, thrives without the use of harmful chemical pesticides.

Production Environment
-100 thousand class dust-free germ-free and negative pressure workshop.

-Ozone sterilization three times everyday, morning, afternoon, evening.

-Nine production line.

-Two fully automatic robotic arm.

-Maintain equipment at startup and shutdown every day.

The Water
RO reverse osmosis pure water purification system, six layer filter.

Production Line
All raw materials are sterilized by ultraviolet and ozone before entering the workshop.

All personnel must be disinfected and changed into clean clothes before entering the workshop.

Product Name: Wet Wipes Baby Disinfectant Antibacterial Wipes
Biodegradable Antibacterial wet wipes
Organic gentle wet wipes
Disinfecting wet wipes
Material: Nonwoven fabric-spunlace
Weight: 30-80gsm
Sheet size: 16*16cm, 15*20cm, 14*19cm, 18*20cm,20*30cm,etc. Customized
Packaging: 8pcs/bag,40pcs/bag,80pcs/bag,120pcs/bag,150pcs/bag,Customized
Package material: PET+PE, OPP+PET+PE, PET+CPP,OPP+PE
Fragrance : Pomegranate, Chamomile, Aloe Vera or Fragracne Free, Customized
MOQ: 10,000-100,000bags
Lead time: 30days after the artwork is confirmed and deposit is received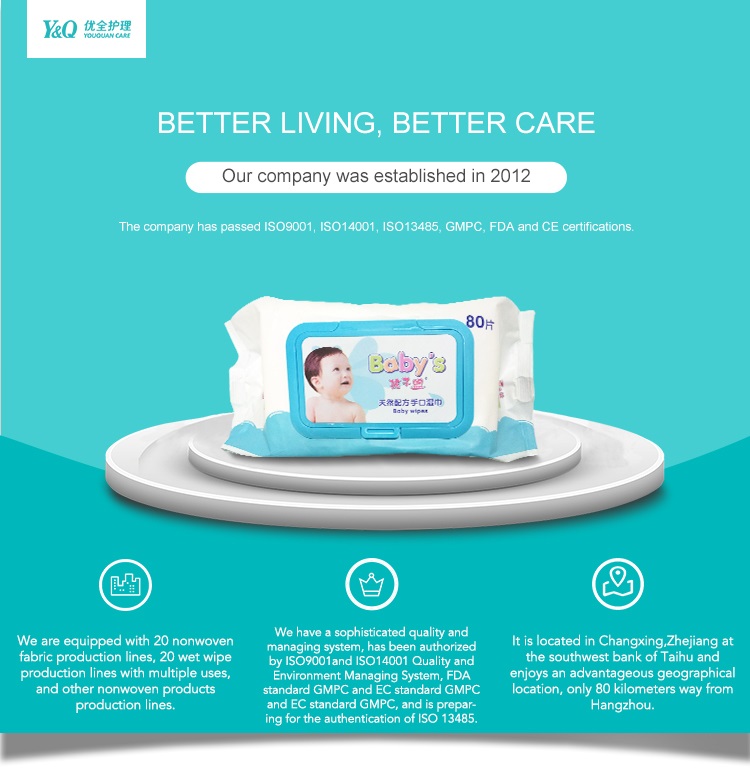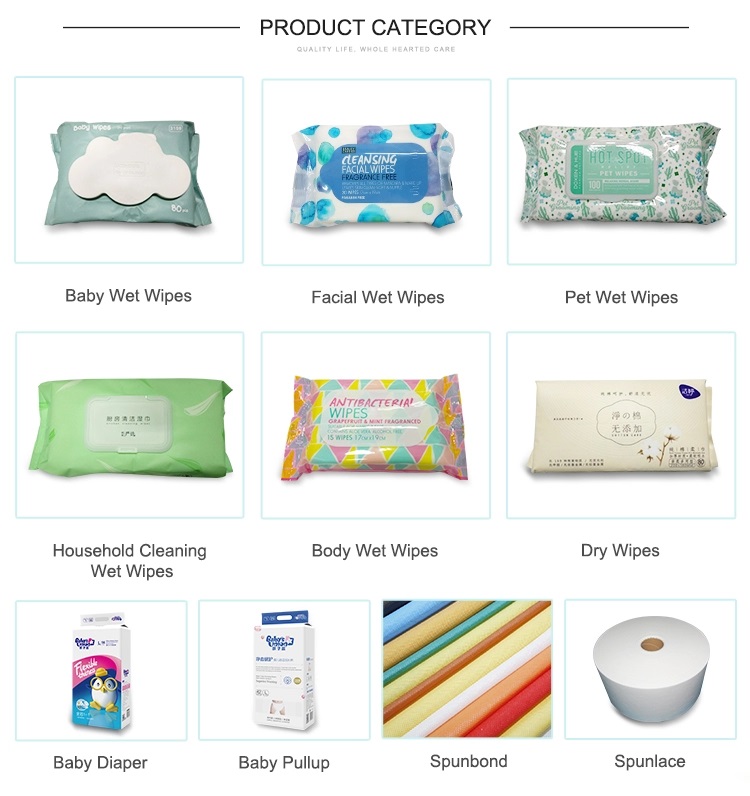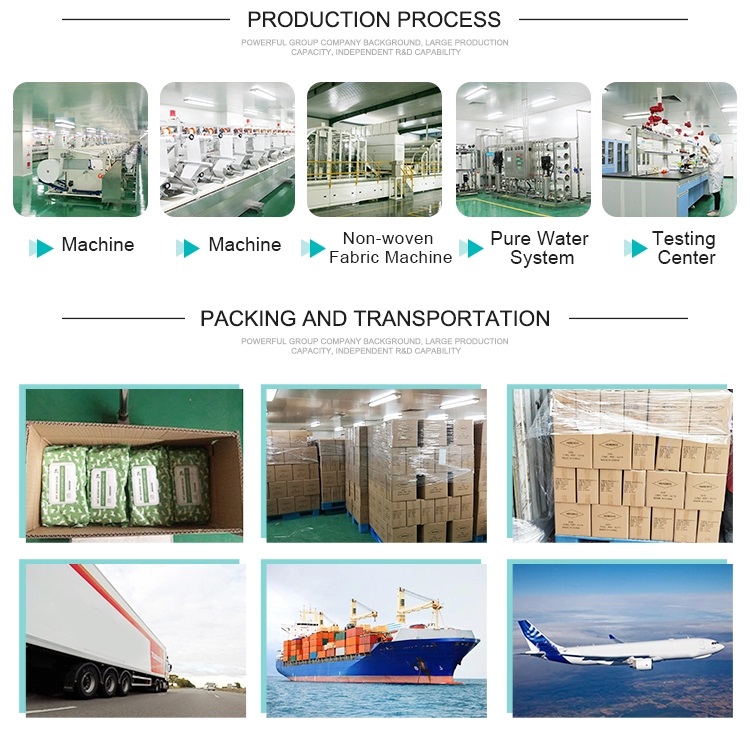 Q:Our company is trading company or factory?
A: We are factory, our factory is in Huzhou city, Zhejiang province, welcome to visit our
factory!
Q:Our products are manual or automatic production packing?
A:We have 8 wet wipe production line, wet wipe from cutting to add ingredient to packing all by machine!
Q:Compare with other wet wipe factory, what advantages we have?
A:We have 12 non-woven production line, our price and quality is more competitive!
Q:Does our ingredient safe?
A:Our ingredient meets China and Europe standard, will not harm our skin!
Q:If your order quantity didn't meet our MOQ, how to solve?
A:Welcome to contact us, we will tell you how to solve!