Primary Competitive Advantages :
. Excellent and High Quality Control
. Customer's Designs and Logos are Welcome
. Competitive Price
. In a Variety of Designs
. Small Order Accepted
. OEM Accepted
High grade non-woven cotton, more thicker, softer and tender for cleaning;
Gentle enough for baby's delicate skin, hands, and face, no viscous feeling after using;
Hypoallergenic natural formula contains aloe vera and Vitamin E, can effectively maintain moisture on baby's skin;
Chlorine free, alcohol free, and unscented;
Convenient packing provides a quick and easy way to take baby on the way.

Product Features:
1.Non-irritating,Sanitary and convenient
2.Eco-friendly,all with non-toxic material
3.Soft and thick for high efficient cleaning
4.Varied specifications and fragrance,Design diversified as clients' requirements

How to use:
1.pear the re-usable label or open the lid and then pear the re-usable label
2.pull out 1 pc or few pcs.
3.clean baby's hands or face.

Notice:
1.For extrenal use only.
2.Avoid contact with eyes.
3.Store in cool place and avoid direct sunlight.
· TOP QUALITY BODY CLEANING WIPES: Treat your skin with utmost care by using these super soft and strong dry cleansing cloths that are perfect for all kinds of cleansing purposes – makeup removal, bathing, incontinence, regular skin care routine, and much more!

· GREAT FOR BABY CARE & SENSITIVE SKIN: These dry baby wipes are designed for ultimate care on delicate and sensitive skin for children, teens, and adults. They're just like the cloths used in hospitals and great for diaper changes and cleaning up your baby.

· UNMOISTENED, EXTRA SOFT & BETTER ABSORBENCY: Unlike moistened wet wipes, they don't dry out, and unflushable wipes reduce the risk of cross contamination. Disposable washcloth wipes are softer and absorb more moisture than reusable cloths which need to be rougher.

· FOR HOME OR PROFESSIONAL USE: Keep our wipes in your bathroom, bedroom, or any room of your home to clean your body or any surface easily. They're perfect for senior centers, hospitals, schools, nursing homes, health care facilities, and any professional setting.

· THE PERFECT PACK FOR YOU: Whether you need wipes every now and then or multiple times a day, we have a pack for you! We have 20pcs. 60pcs. 56pcs and 80pcs type both in the soft packing or in the box packing.


Cotton dry wipe is made of 100% cotton non-woven fabric, It's so soft ,absorbent and eco-friendly as it's polyester free. Unlike wet wipes, the cotton wipes are in dry condition, they don't need to add chemicals to stay fresh and moist for a long time.

It's an environment friendly alternative to paper towels, cotton pads, face towels and other products.

It's disposable, hygenic, biodegradable. It has become the most safest wipe for the baby.

Product Name: Flushable Baby Skin Care Wet Tissue For Children
Bamboo biodegradable baby wet wipes
Organic gentle baby wet wipes
Fragrance.Alcohol free baby wet wipes
Material: Nonwoven fabric-spunlace
Weight: 30-80gsm
Sheet size: 16*16cm, 15*20cm, 14*19cm, 18*20cm,20*30cm,etc. Customized
Packaging: 8pcs/bag,40pcs/bag,80pcs/bag,120pcs/bag,150pcs/bag,Customized
Package material: PET+PE, OPP+PET+PE, PET+CPP,OPP+PE
Fragrance : Pomegranate, Chamomile, Aloe Vera or Fragracne Free, Customized
MOQ: 10,000-100,000bags
Lead time: 30days after the artwork is confirmed and deposit is received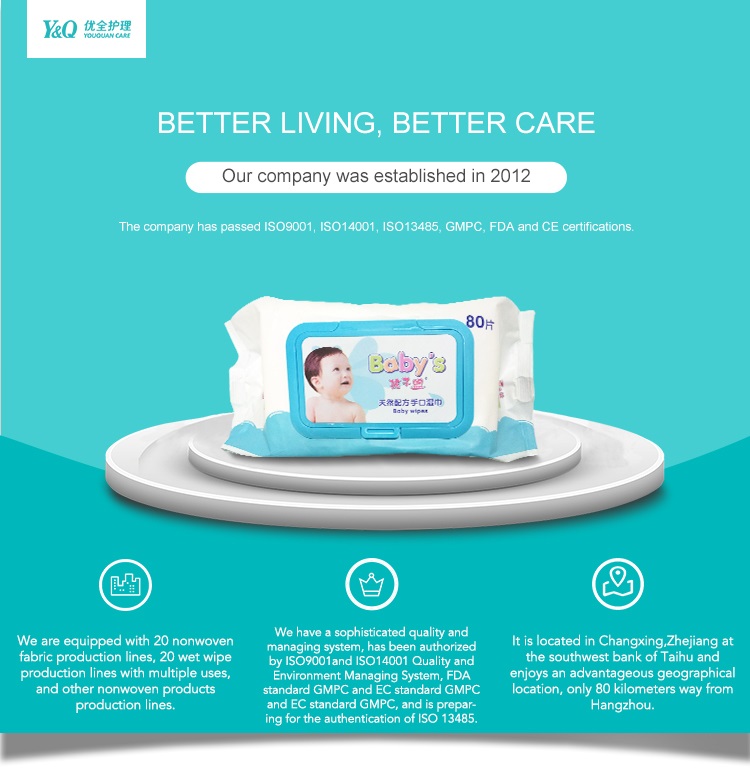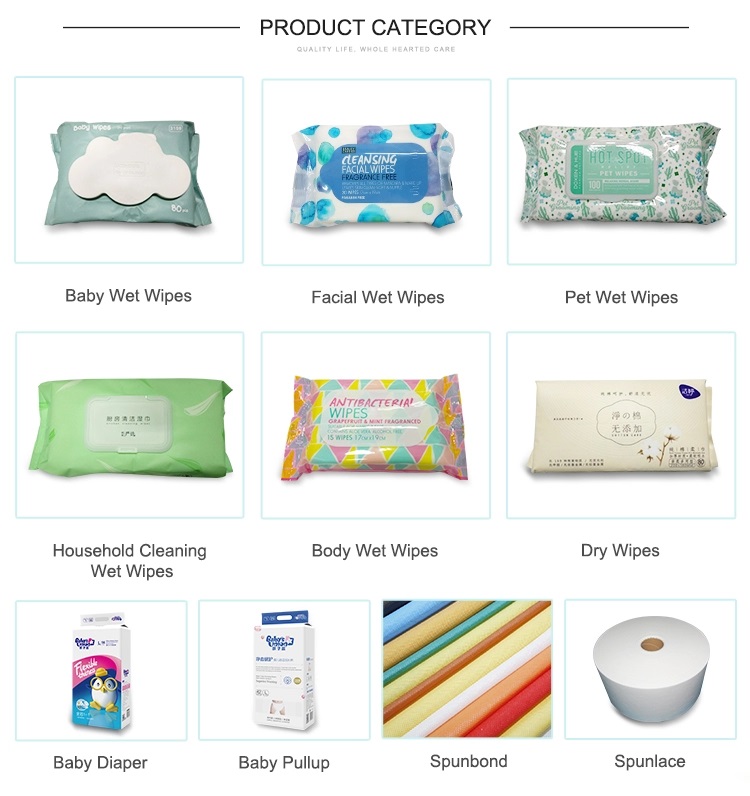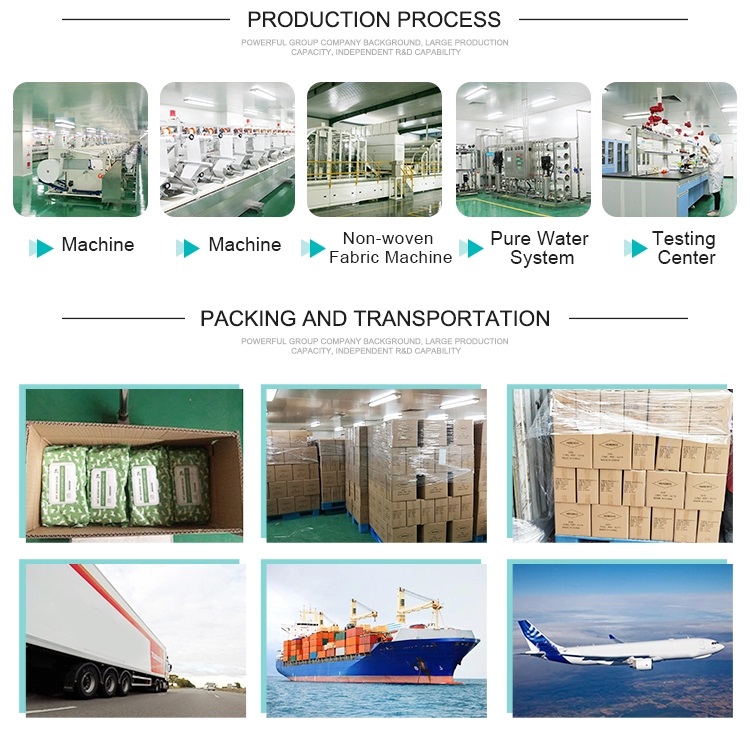 Q:Our company is trading company or factory?
A: We are factory, our factory is in Huzhou city, Zhejiang province, welcome to visit our
factory!
Q:Our products are manual or automatic production packing?
A:We have 8 wet wipe production line, wet wipe from cutting to add ingredient to packing all by machine!
Q:Compare with other wet wipe factory, what advantages we have?
A:We have 12 non-woven production line, our price and quality is more competitive!
Q:Does our ingredient safe?
A:Our ingredient meets China and Europe standard, will not harm our skin!
Q:If your order quantity didn't meet our MOQ, how to solve?
A:Welcome to contact us, we will tell you how to solve!